Our all-in-one field service management software solution provides small-to-large service contractors with the right tools to help them maximize their business potential. SAWIN software is packed full of features like digital invoicing, job scheduling and dispatching, payroll and time management, reporting and much more. Operate your business from anywhere at an affordable price.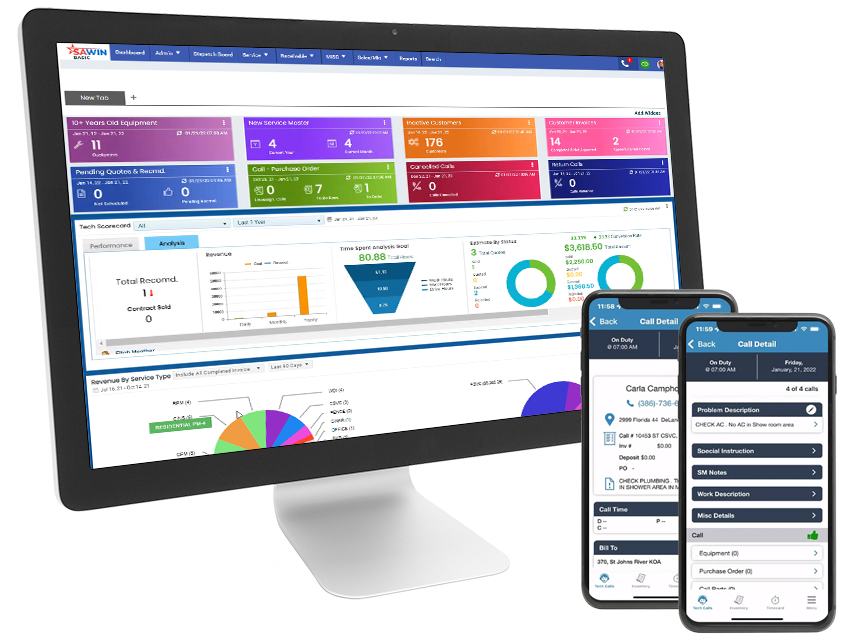 With Our Field Service Management Solution, complete a 30 Minute Task in Seconds – from Anywhere
With a user-friendly, organized platform for managing operations, SAWIN's field management software makes day-to-day tasks easier. Our software ensures staff, technicians, and your customers are all on the same page.
Maintain multiple customer contacts and service locations, establish billing terms and communication preferences, track referral sources, and store private and public notes, documents, images, and more.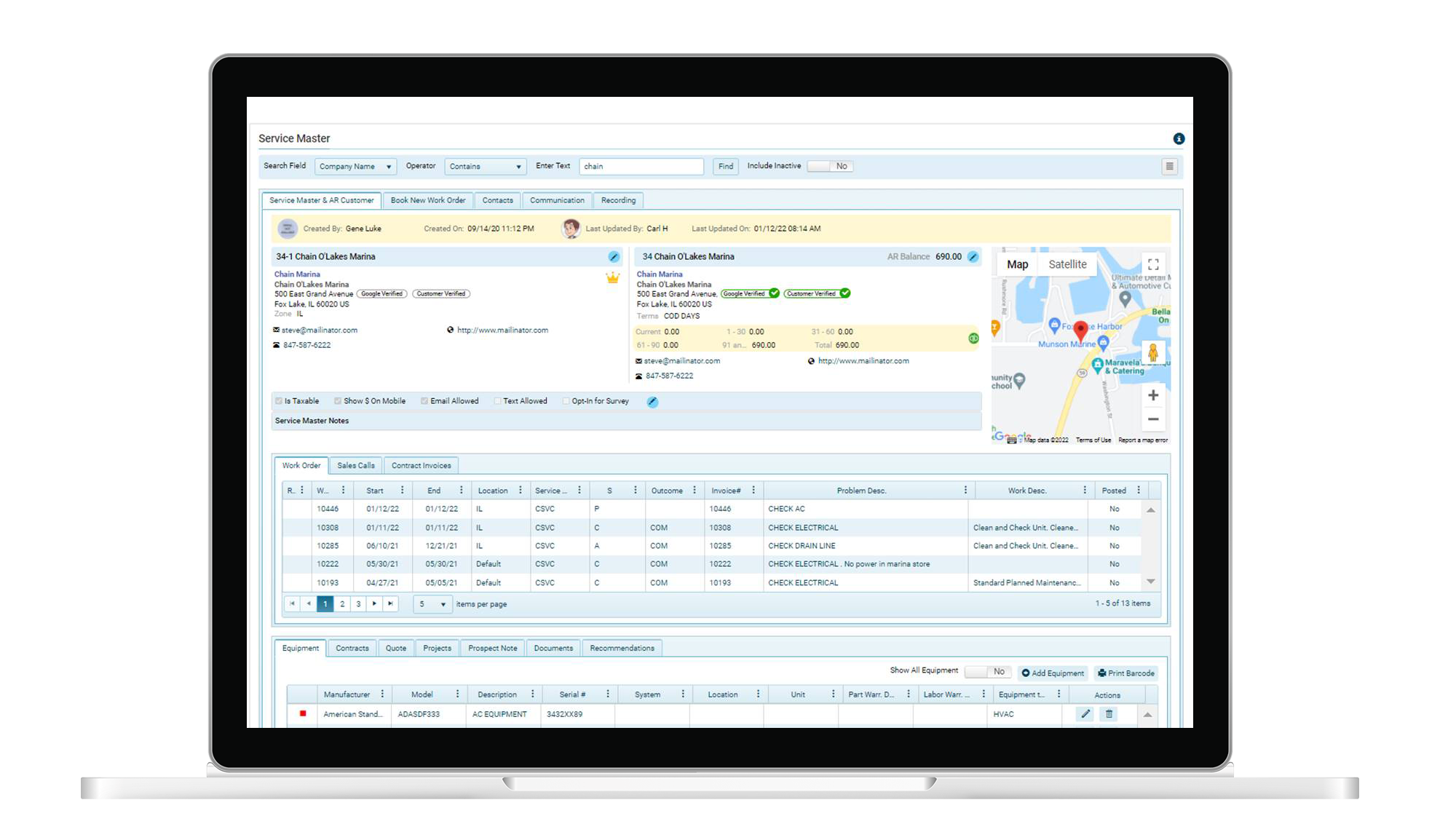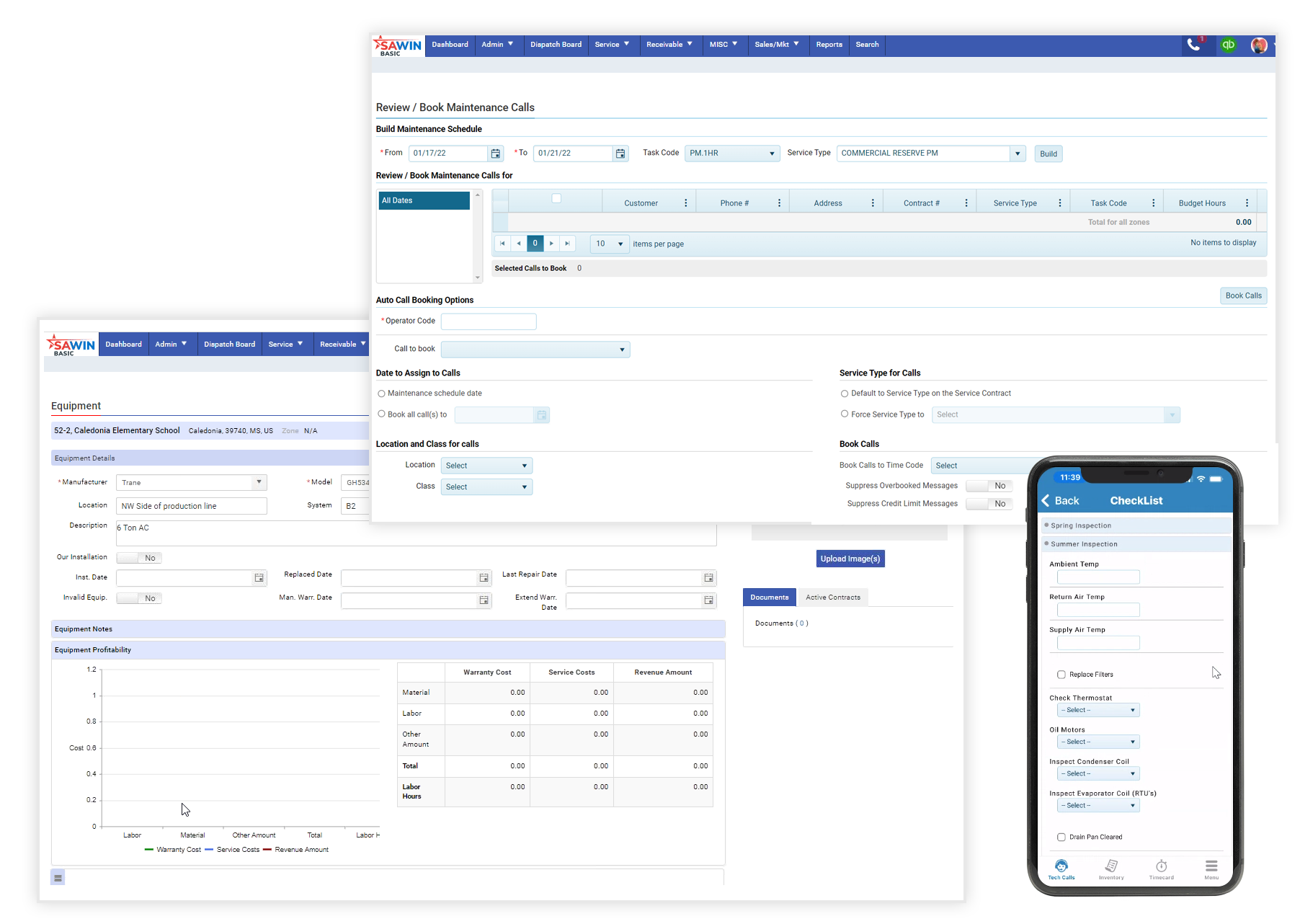 Customers prefer to make purchases with a click, tap, or swipe, so impress your customers with an efficient, modern shopping experience.
With SAWIN's pricebook, it's easy to let homeowners browse products and deliver clean, professional estimates on every job to boost convenience and increase sales.
Easy Scheduling & Dispatching
Traffic delays, car troubles, and last-minute scheduling curveballs will unfortunately arise. With intelligent schedule optimization, SAWIN's workforce scheduling tools make it easy for your dispatcher to keep your team flexible and proactive all day long to avoid time delays. With a simple point-and-click, jobs can be extended, shortened, or rescheduled altogether.
SAWIN users can use custom tags to flag specific jobs for additional tools needed, languages spoken, prior reschedulings, and more to ensure their technicians arrive ready to work.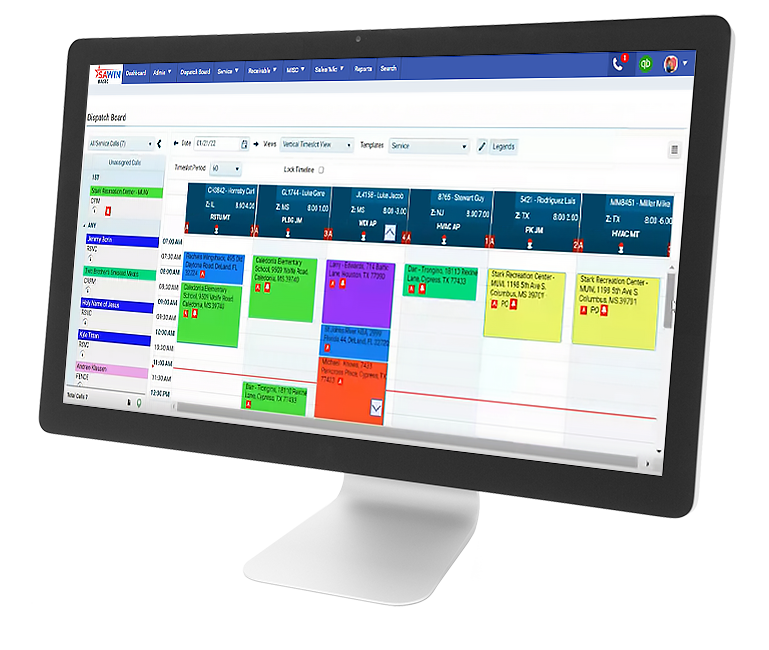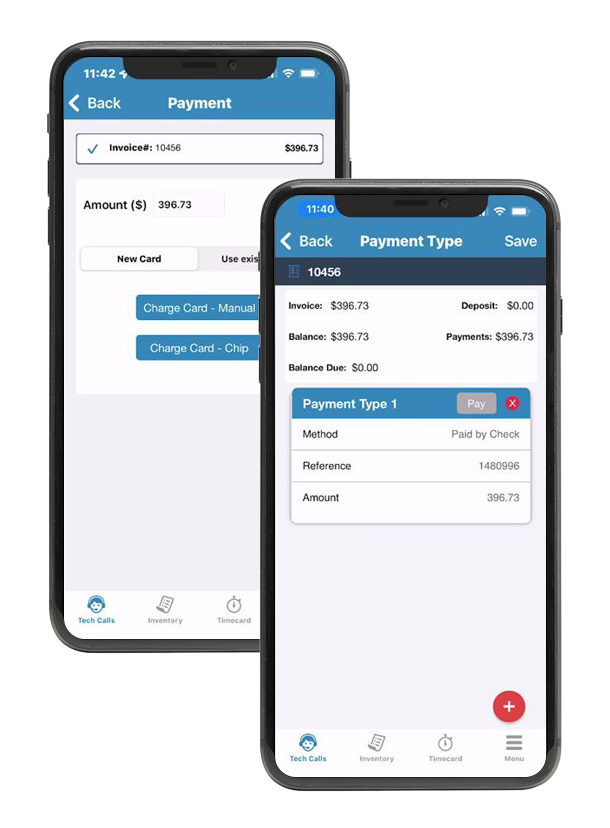 Faster Payments from Anywhere
Does your accounting staff still wait around for techs to return to the office and drop off checks? With efficient SAWIN payment processing, you won't have to wait in line at the bank anymore. Credit card and check payments are deposited the very next day and with personalized online payments, you'll get paid 2-3x faster.
Gain Visibility with GPS Fleet Tracking
Empower your business with visibility and data. Get real-time data and location tracking of your entire fleet inside SAWIN.
Share tech ETA's to Improve customer experience
Improve your driver's behaviors
Prevent unauthorized vehicle use
Reduce fuel costs
Reduce insurance premiums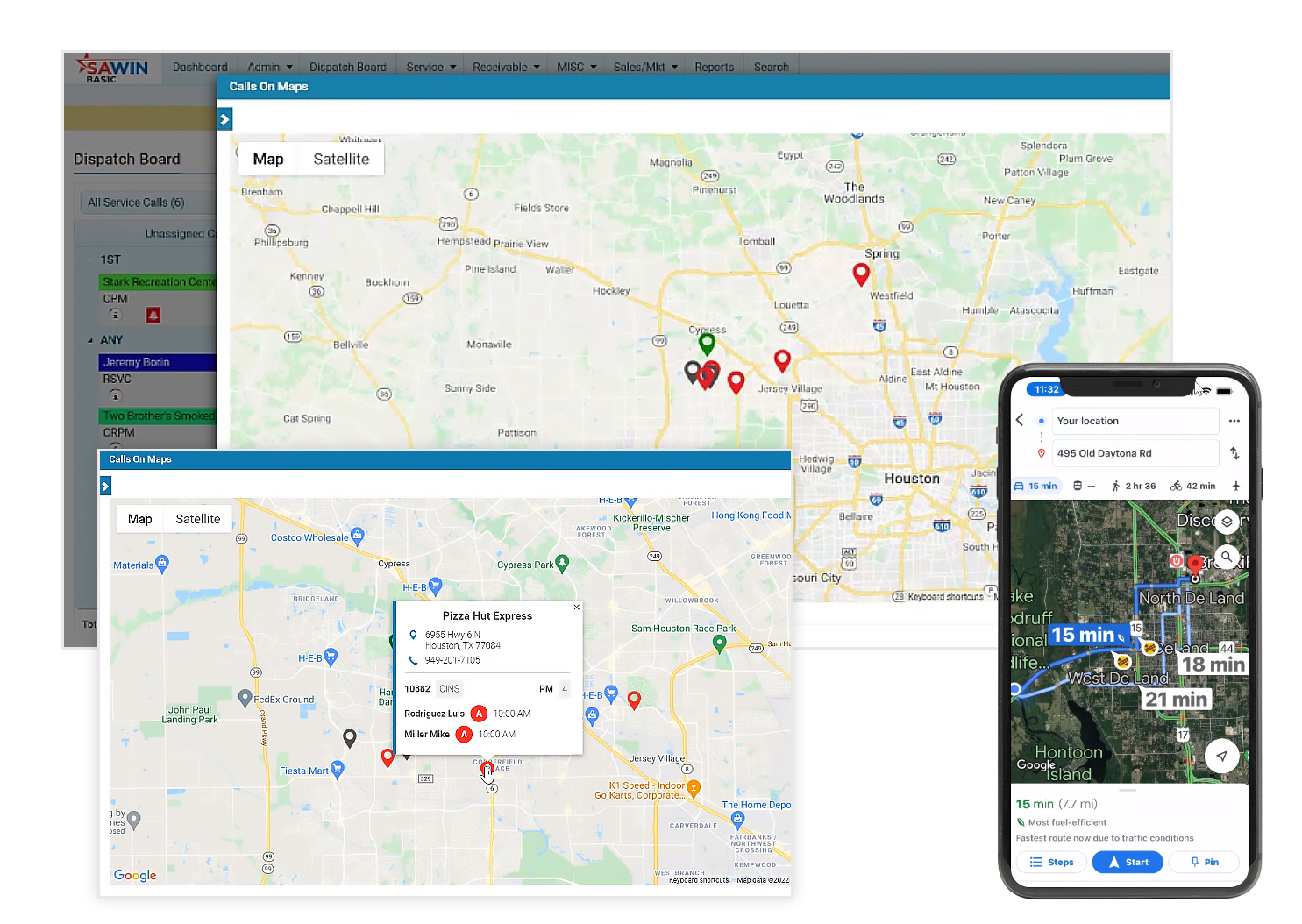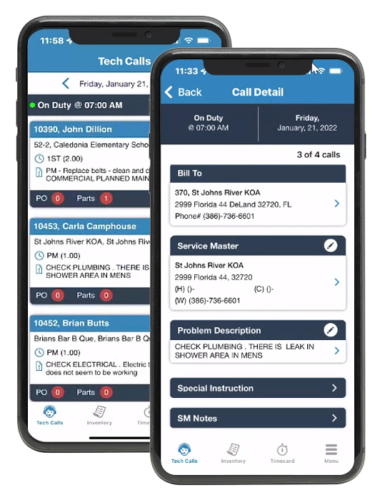 Stay Informed with SAWIN Mobile App
SAWIN field management software allows for real-time communication with your technicians and customers via SMS notifications about scheduled jobs, on-the-way alerts to your customers, and more.
SAWIN Mobile synchronizes with our phone integration in your office, so your tech has full access to the information your CSR collected during the intake process. Techs will be able to retrieve customer names, addresses, contact info, CSR notes, outstanding estimates, and much more.
With SAWIN, customer transactions in the field can be instantly captured and exported to your QuickBooks® seamlessly. You won't need to input accounting data by hand, in turn, decreasing data entry error. SAWIN ensures financials are accurate, current, and easy to access.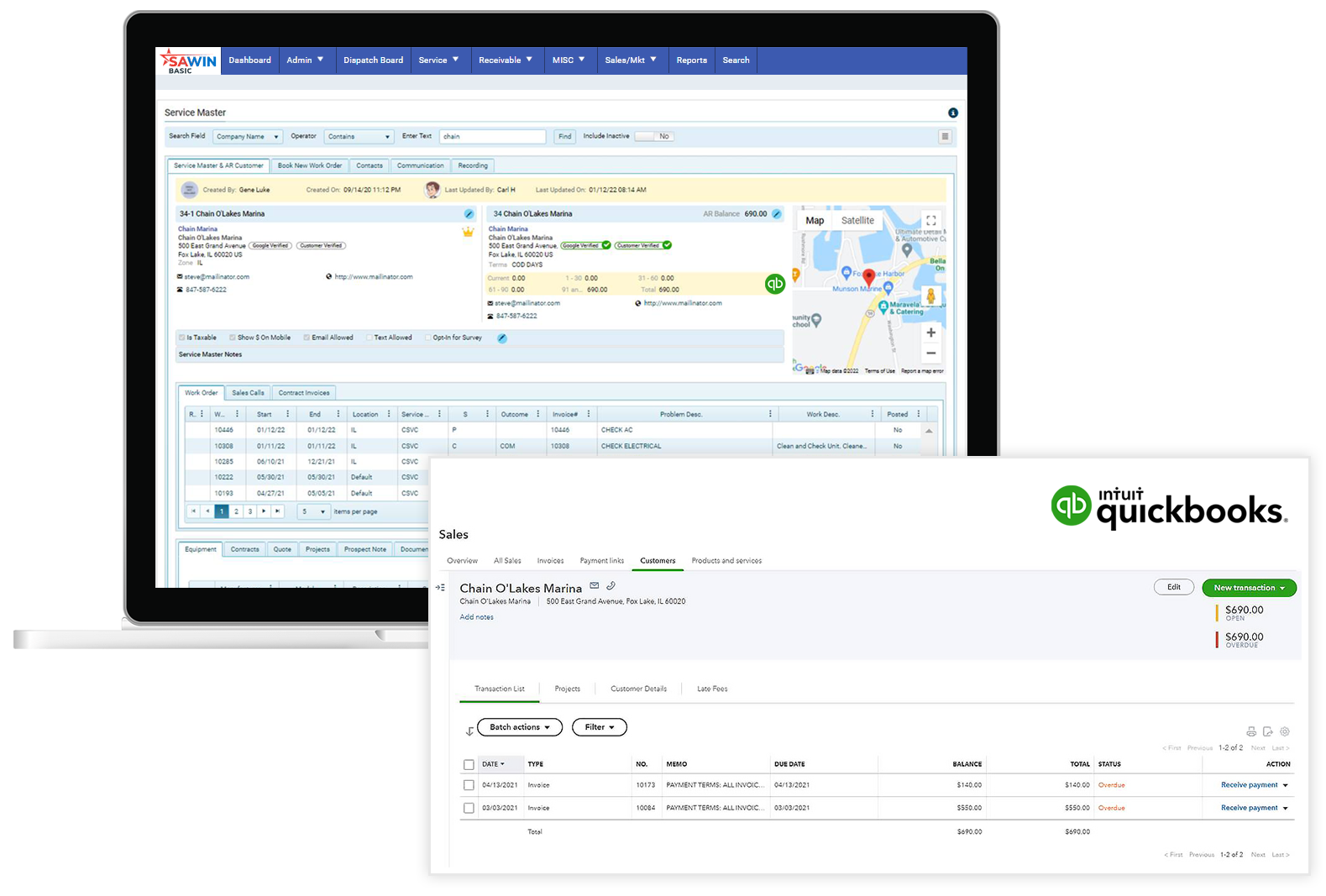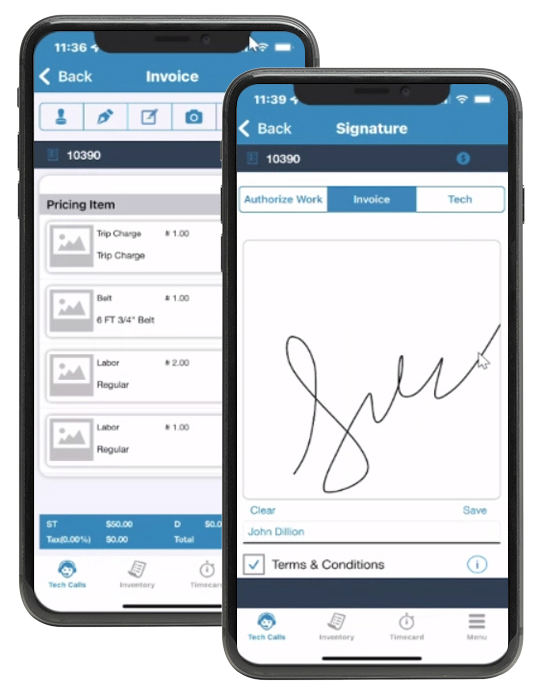 Contactless eSign Solutions
With contactless eSign documents, you have the ability to accelerate agreements, eliminate back and forth manual tasks, and increase convenience and safety for your customers and teams.
Send and sign agreements securely in minutes
Turn any custom single or multi-page document into an eSign document
Send eSign requests directly from within estimate and job screens
Create custom eSign request email templates
Preview and download eSign documents as PDF
Mobile eSign from customers' personal devices
With SAWIN and Sage Intacct integration, your field service business will have plenty of insight to spot trends, leverage spending, and track growth. No matter how many new employees you hire or new locations you open, SAWIN and Sage Intacct will make sure that your bookkeeping never misses a beat.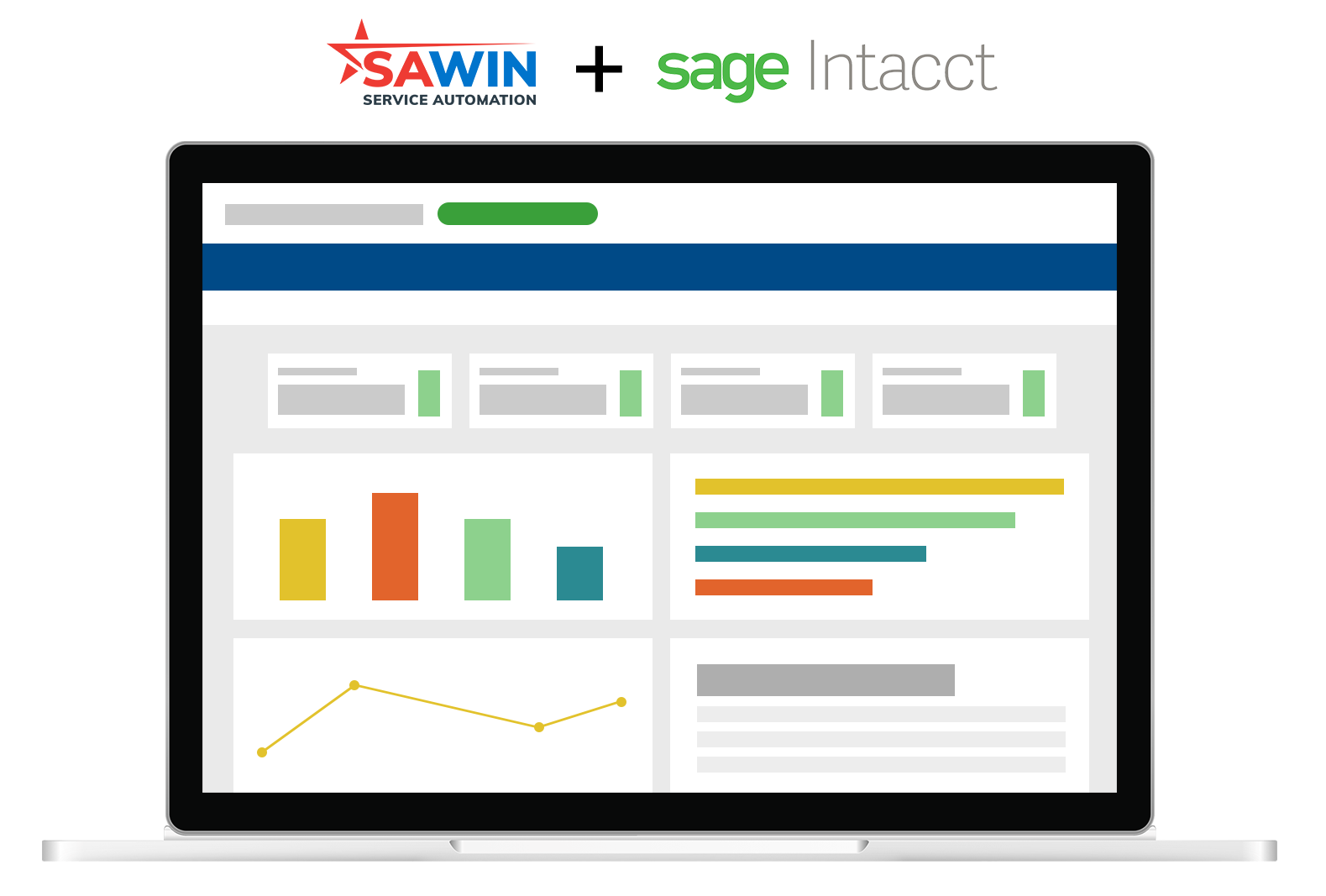 Record Every Incoming Call
Your CSRs must be ready to convert when the phone rings. The SAWIN phone integration enables your team to book more jobs while providing an excellent customer service experience.
Do you sometimes find it necessary to clarify what a customer said during a phone call or to offer some coaching to a CSR? With SAWIN call recording, you can capture all incoming calls, giving you a complete record of when and how your company is booking jobs.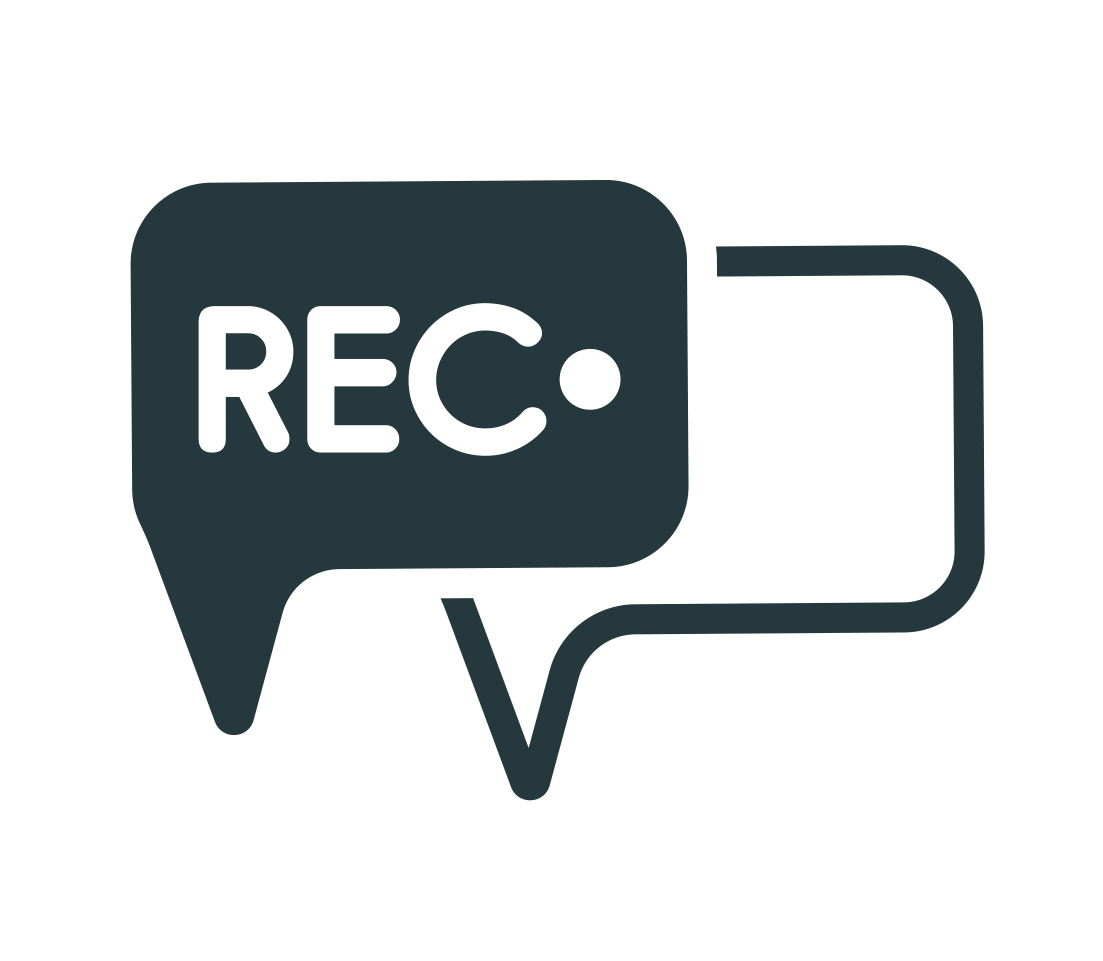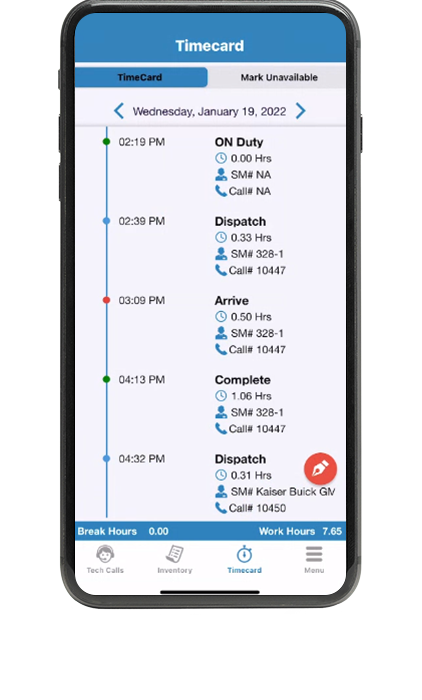 Easy-to-use Time Tracking for Contractors
With SAWIN, your technicians' drive time, vendor runs, and on-site times are automatically documented on their timesheets. Overtime can also be configured with a few simple clicks.
Employees can access their payroll history and clock in and out from the same digital workspace. In addition, timesheets sync with your dispatch board, so your team always knows who's available to work.
Operate from anywhere, win repeat customers, and increase productivity by up to 40%.
YOUR SUCCESS IS OUR PRIORITY
SAWIN software helping 215 employees develop relationships with valuable customers.
Brian Cropp
CroppMetcalfe
CroppMetcalfe has been around since 1979 and has grown primarily by providing good service and developing relationships through service agreements. We have 215 employees in which 160+ are field personnel.

Powerful, integrative technology.
Jeffrey Allison
IT Manager, Estes Services
We have been using SAWIN service software for over 15 years. They are an extremely innovative software company implementing the latest technologies. What makes them better than other service.

Dedicated, reliable team at SAWIN who get right to the issue and find solutions.
Beth Arnold
Westbrook Service Corporation
My boss, the VP of Westbrook Service Corporation, was impressed by SAWIN developers and what they are able to produce. We explored another larger software company that had many more developers, but they couldn't produce the reports that SAWIN was producing in the format that we needed it. There's a dedicated team at SAWIN. If I have a problem, I can call Heather, Mike, or any of the support team and they'll help me figure it out. I work with the technicians on mobile. I can call Sanjay and say, "Hey Sanjay my guys have an issue," and he gets right on it.

Unanimously, this was the software for us. It had every piece we were looking for.
Wayne McKinney
Payne Air Conditioning & Heating Inc.

SAWIN constantly grows with the industry. Software customization is what has kept us with them for 31 years.
JoLynn Bass
RHP Mechanical Systems

SAWIN software customer for 10 years. Ease-of-use, innovative options, and impressive record keeping that allows for growth.
Paul Heinmann
Welsch Heating & Cooling

UPDATES FROM THE

SA

WIN

Learning Center